We are pleased to announce that the Jeanneau Sun Odyssey 410 and Jeanneau Sun Odyssey 490 have both been awarded one of the highest accolades in sailing design awards winning Boat of The Year. The Jeanneau 490 won the overall the best boat of the year and the Jeanneau 410 won its subcategory for Best Midsize Cruiser over 38ft.
The award managed by leading industry experts, sailors and journalists noted that in a competitive market both boats brought innovation and performance in a package that should be admired by all afloat.
Of particular impression to the judges was the outstanding performance of the Jeanneau 490 which stood up to its canvas very well, heeling to about 10 degrees and then sitting on its chines comfortably allowing consistent and good speeds even in a stiff Northerly that the day presented to them.
They also liked the subtly offset cockpit which made it feel spacious, uncrowded and easy to move around along with a host of other features such as the fold flat cockpit seating, walk around side decks and spacious open feeling down below, they commented that Jeanneau was clearly onto a winner with the Jeanneau Sun Odyssey 490.
In the case of the smaller sister ship, the Jeanneau Sun Odyssey 410, they were equally impressed by its performance under sail with neat touches such as the cockpit back rests, huge amounts of clever storage below decks and much more besides in a field dominated by production cruisers the Jeanneau 410 was a clear winner for the judges in her category.
Jon from YACHTS.CO commented that in sailing the Jeanneau SO490 it 'pulled like a train' and was impressed with its relentless performance at all angles of sail in addition to its useful side decks and split rigging which allowed the crew to move about the decks quickly and easily, equally as enamoured as the judges it is clearly a popular option.
Both boats, along with the sister model Jeanneau Sun Odyssey 440 are already sold out for the first season until the summer months of 2019 when it should just be possible to get an order booked if done before the start of the Dusseldorf boat show.
If you are looking at buying one of these models then it must be the case that you speak to us as soon as possible in order to secure your build slot for the second half of 2019.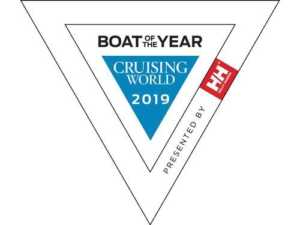 ---