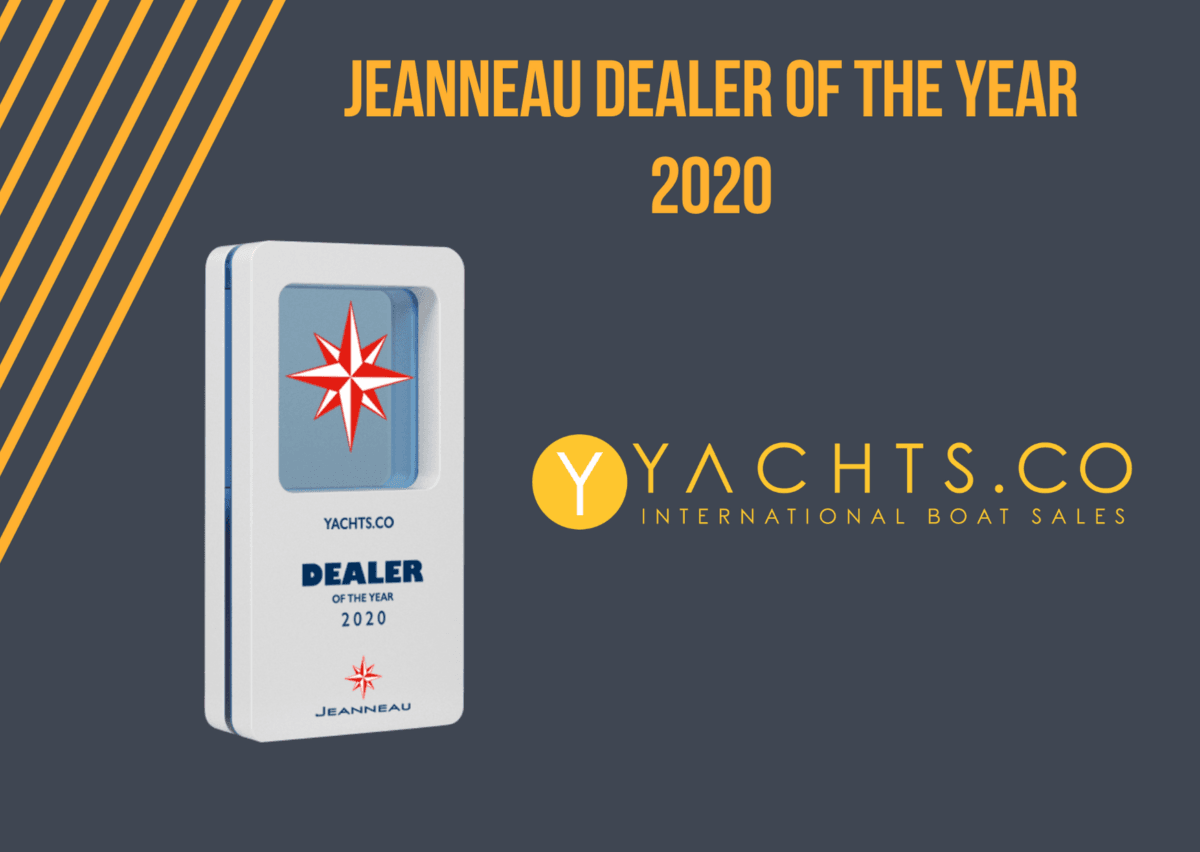 Following the general 2020 dealer meeting, it was announced that YACHTS.CO were awarded Jeanneau Sailboat dealer of the year. This is a great honour and testament to the teams work towards customer satisfaction and service throughout the 2019 and 2020 season. As we know the 2020 year has been challenging but the overall demand now to get on the water and away from the hustle and bustle has led to a huge surge in demand for new and used boats.
YACHTS.CO work hard to make sure all customers are updated and with a comprehensive handover and purchase experience that we are proud of.
The Jeanneau sailboat brand is number one in the world and for a good reason. Firstly, the Sun Odyssey range was rebooted in 2018 with the launch of the 490, and subsequently the follow-up launches of the 440 and 410, have taking huge market share resulting in Jeanneau holding the 40ft market in terms of units sold for 10 years now – down to the incredible innovation and styling of this new Sun Odyssey range.
Further to this the Jeanneau Yacht range has also proven the test of time with Jeanneau being the 1st to market of the large production boats over 50 foot, with the introduction of the Jeanneau 54DS and several years later the market leading Jeanneau 64. Since this time the Jeanneau Yacht range and customer base has grown to one of the largest in the world and again the release of new products and innovation has led to an ever-growing demand.
Looking forward
There are many exciting announcements ahead but one we can share with you now is the launch of the new Jeanneau 60 Yacht. This will be exhibited at Dusseldorf 2021, and trust me this is a game changer, with some cleaver new features and a stunning look. If you're interested in knowing more when the information is released, click HERE.
Cannes boat show is also currently slated to go ahead which is exciting news for us – 8th-13th September. We are keen to see anyone there if you would like a look around the Jeanneau range, just let us know and we can again keep you informed of the details as they emerge.
Have a boat to sell
The market is very strong at the moment and with a surge in demand, maybe this is the time to look to upgrade as your part exchange price may be better that you first thought. Let us know, we can send you across what your boat is worth against one of the new Jeanneau boats, you never know, you may be sitting in a new shiny Jeanneau before you know it.
Enjoy the summer
Jamie Tibbott
---