The 7.6L V12 600hp Verado is the most powerful, most innovative outboard in Mercury history. The development of the V12 Verado is a product of Mercurys contained commitment to investing in R & D and manufacturing expansion, which includes more than $1.5 billion of investment since 2008.

It's 7.6 litre displacement and performance inspired quad cam design generates superior torque and acceleration
The industry's first 2-speed automatic transmission means effortless work form transferring 600hp through the gearbox.
No Shift clunk, No limitations, Only smooth impressive power.
Mercury have revolutionised the way boats handle by designing the outboards first steerable gear case. The integrated electro-hydraulic steering immediately responds to you command for more precise manoeuvrability.
"The V12 Verado outboard delivers everything boaters want and more in a high-horsepower outboard. This engine makes boats easy to maneuver near the dock and provides superior handling at all speeds. It's incredibly fuel efficient, so boaters can go farther and stay out longer. It's so smooth and quiet that you can have a conversation while the engines are running. It's durable, reliable and easy to maintain. There's nothing else like the V12 Verado in the marketplace today"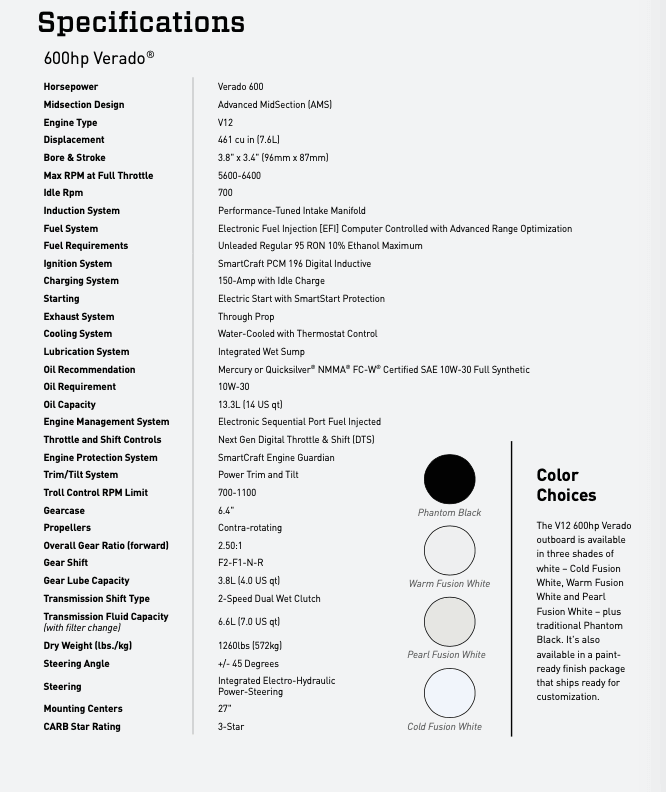 ---