The Jeanneau Yacht 55: A Sailing Yacht That Combines Elegance, Performance, and Comfort for Offshore Cruising
At the Dusseldorf 2023 boat show Jeanneau has introduced a new sailing yacht that is set to revolutionise the world of offshore cruising. The Jeanneau Yacht 55 is a 55-foot long sailing yacht that combines elegance, performance, and comfort for offshore cruising and longer voyages. The yacht features an innovative and original layout with a private owners apartment and a huge cockpit with living areas.
The forward owner's suite occupies two-thirds of the interior, this suite is designed as a true private apartment, offering a comfortable and spacious living area that is perfect for long voyages. The main companionway provides private access to the owner's suite, opening onto the forward cabin, and features numerous handholds for safety on board while under way. The yacht also has two aft cabins with private bathrooms that enable guests to enjoy perfectly independent living spaces, accessible from the cockpit by two separate companionways.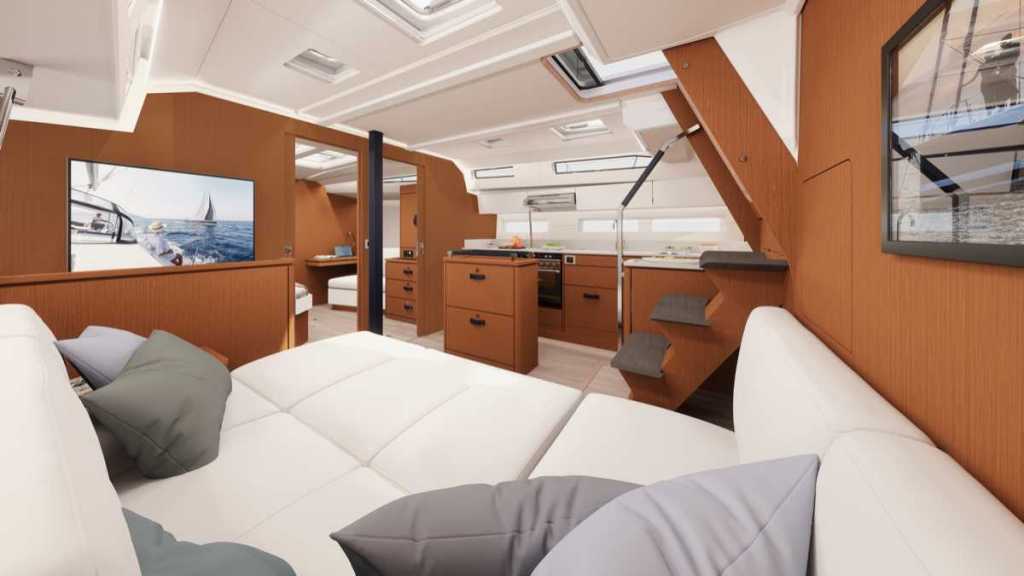 The exterior of the yacht is equally impressive, with a revolutionary deck layout that includes a dual cockpit. The aft is dedicated to relaxation, featuring two seating areas, one U-shaped and one L-shaped, which each convert into sundecks, and a gigantic hydraulic swim platform. The twin helms are positioned forward, and even feature an exterior chart table with a GPS screen and autopilot controls behind a wrap-around windscreen, offering remarkable visibility. These innovations enable you to cruise in all seasons and latitudes, placing the pleasure of sailing back at the heart of life on board.
The protected navigation station is located at the forward part of the cockpit and is protected by an optional canvas top and wide, wraparound windscreen, which offers excellent visibility and protection from the elements. This allows the skipper to navigate the yacht in comfort, even in rough seas. Additionally, there is an optional full enclosure that encloses both the navigation station and dining area, providing added protection and privacy.
There is also an optional opening T-Top aft that provides even more protection from the sun and rain, allowing you to enjoy the cockpit in all weather conditions. This feature also adds to the aesthetics of the ya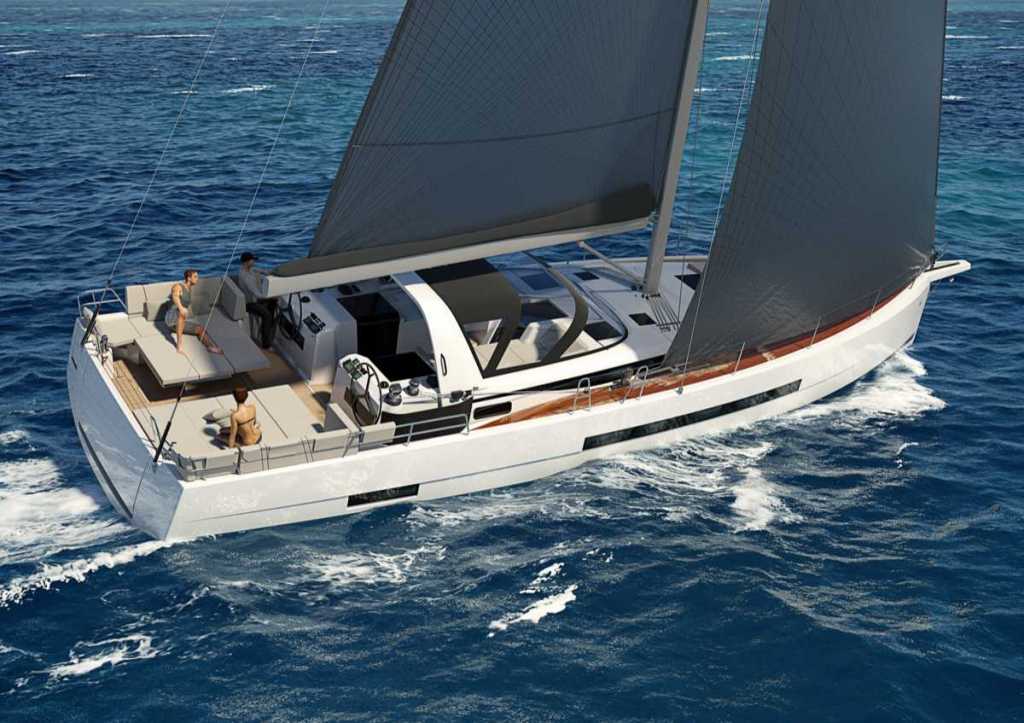 The large sundeck aft is another great feature of the cockpit, it is an ideal place to relax and enjoy the beautiful views while underway. The aft seating areas can be converted into sun-beds making this is a great place to sunbathe, read a book or enjoy a meal.
All of these features make the cockpit of the Jeanneau Yacht 55 a comfortable and enjoyable living and relaxation space, whether you're cruising or at anchor. It's an ideal area for entertaining guests or simply relaxing with family and friends. The yacht is well equipped for cruising with full peace of mind and offers a unique cruising experience.
The yacht is powered by a 110 horsepower Yanmar engine and has a standard keel draft of 2.45 meters. It yacht has options for a multitude of different sails to match the needs and desires of individual owners, she is provisionally CE certified in categories A12, B16, C16 and D16 allowing her to be used as a true open ocean cruiser.
The yacht is designed by a team composed by Philippe Briand, Andrew Winch and Jeanneau Design. Philippe Briand is a well-known naval architect, who has designed many high-performance sailing yachts, Andrew Winch is another prominent designer with a career spanning over 30 years, creating interiors and exteriors for superyachts, private jets and luxury resorts, and Jeanneau Design is the in-house design team of Jeanneau responsible for bringing all the threads together. Together they have brought together their knowledge and experience to create this new and innovative yacht.
In addition to its impressive design and performance, the Jeanneau Yacht 55 also comes equipped with the latest technology – it is also equipped with the latest in marine electronics from Raymarine, with two different packages available to buyers, called "Offshore" and "Ocean". The Offshore package offers a comprehensive set of navigation tools and instruments to ensure safe and comfortable cruising, while the Ocean package includes even more advanced features, such as Radar. which are ideal for longer voyages and offshore sailing. Both packages come with a range of high-quality displays, instruments, and sensors that provide all the information you need to navigate and manage the yacht with ease. With these packages, the yacht is well equipped with the latest technology to make the sailing experience more enjoyable and safe.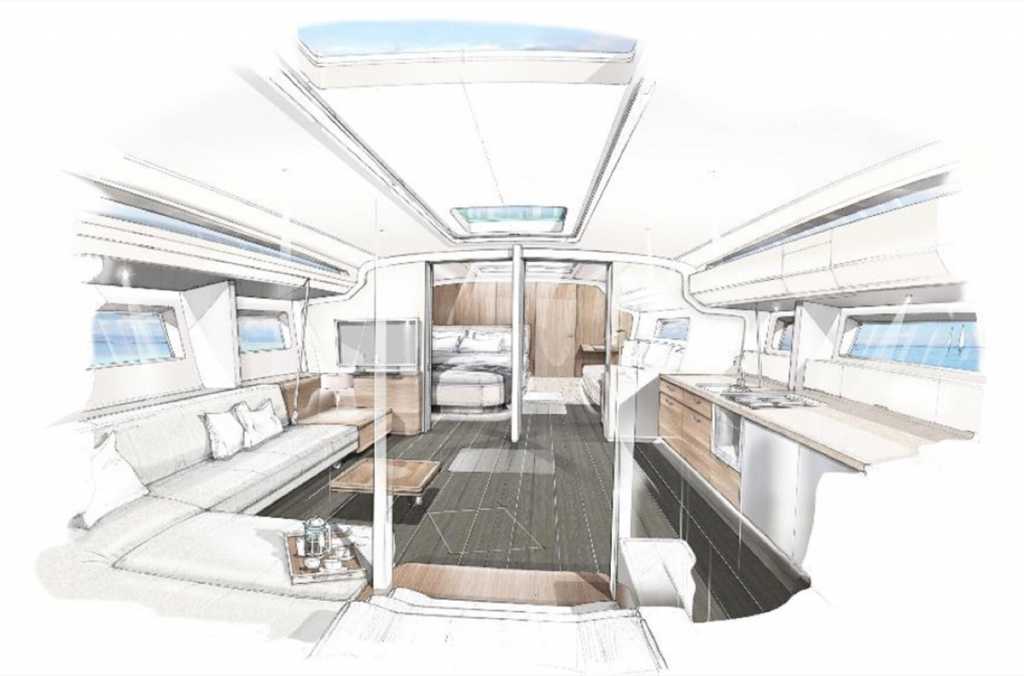 The yacht also comes with SeaNapps, a vessel monitoring technology as standard, which allows the owners to monitor the yacht's systems remotely. It also has a large garage that measures 2.1m wide by 1.5m deep, which is big enough to fit a 'Tiwal' and make it easy to launch and recover a dinghy.
The Jeanneau Yacht 55 is a yacht that is designed for those who love to travel and appreciate beauty. It is a direct and uncompromising response to meet the needs of sailors who love open waters and want to experience a unique cruising experience. With its elegant design, high performance, and comfort, the Jeanneau Yacht 55 is the perfect yacht for those who want to cruise in style and experience the best of sailing.
If you're interested in the Jeanneau Yacht 55 and would like to know more about this innovative and luxurious sailing yacht, please don't hesitate to contact us. The team at YACHTS.CO will be happy to provide you with all the information you need, including pricing, availability, and financing options. We can also arrange for a personal tour of the yacht, so you can see for yourself all of its impressive features and luxurious amenities. We understand that purchasing a yacht is a significant investment, and we want to ensure that you find the perfect yacht that meets your needs and exceeds your expectations. Contact us today and let us help you start your journey to owning the Jeanneau Yacht 55.
---