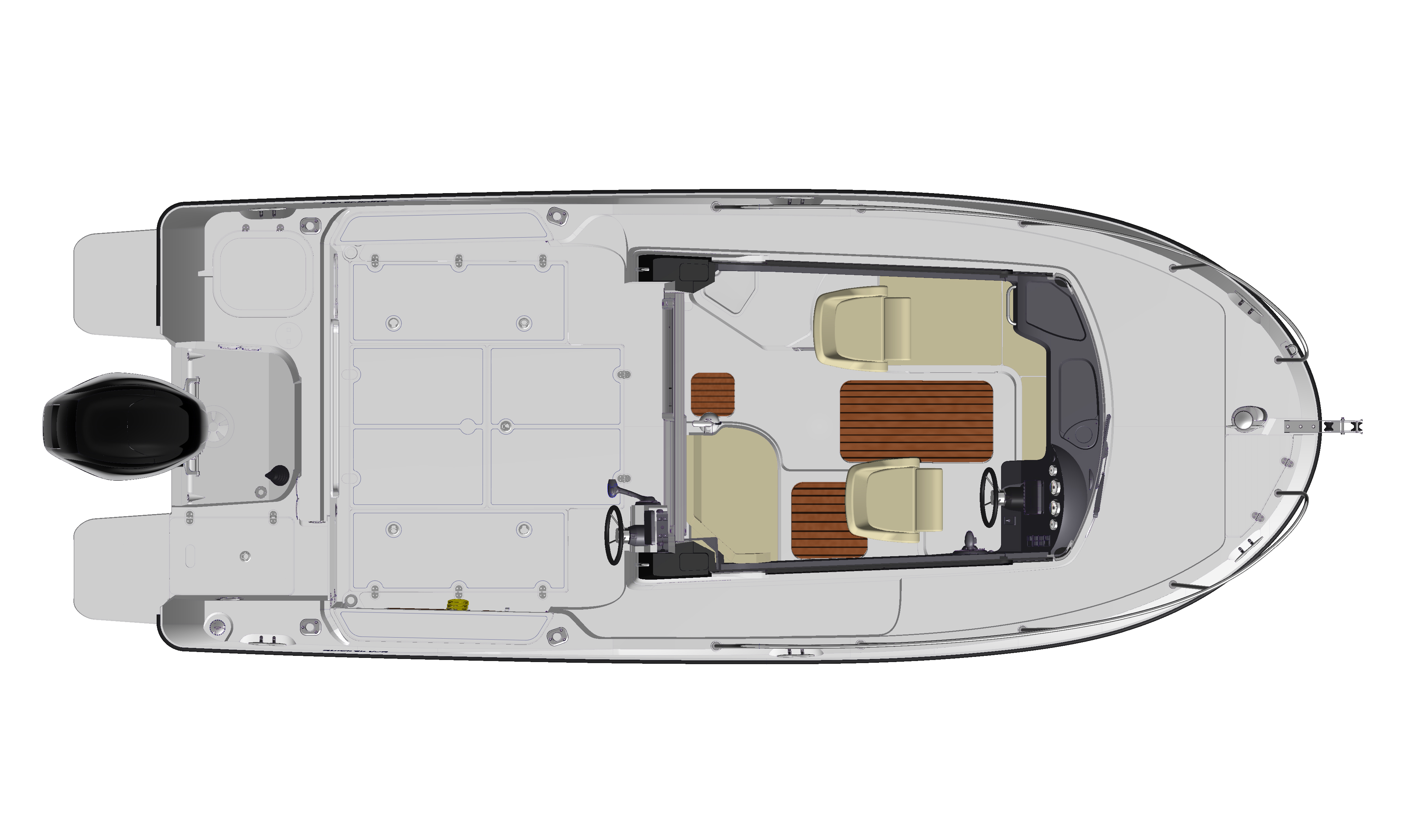 Are you looking for great performance at an attractive price? The 675 Pilothouse contains an intelligently designed cockpit for comfort, coupled with class-leading space that is perfect for both fishing and leisure.
The craft's maximum 200 horsepower engine will allow you to easily reach a cruising speed of 25 knots. And whether you want to relax with friends or get your line in the water, our SMART edition combines the right mix of Cockpit, Cabin and Fishing options for your needs–your boat will be perfectly suited to your lifestyle.
SAFETY
The 675 Pilothouse is a ready-for-fun craft designed with safety in mind. High freeboards in the cockpit, safety rails, and easy bow access ensure a worry-free water experience with plenty of other safety options too. The helm provides 360° visibility, swim platforms allow your family and friends to get in and out of the water safely and easily, and an optional windlass ensures extra control – whether you want to leave in a hurry or stay exactly where you are.
COMFORT
Your comfort is our goal. The fully con gurable cockpit space can be converted in a minute to seating and dining area with an optional comfort pack. In the cabin there is seating for four, and a convertible berth that sleeps two. A wide starboard walkaround allows easy bow access, and a sliding door provides shelter and quick availability to the rest of the boat. The handy galley with sink and cooker can be easily upgraded to include fresh water capabilities and a refrigerator. You can also enhance your craft with a dual helm station, sea toilet and colored hull.
FISHING
Ready for a great shing experience? Prepare your bait at the dedicated station with an integrated cutting board. Then locate the best shing location with your optional GPS/Chart plotter. Once you're there, grab your rods from the easily-accessible, rod holder, and get that hook in the water from the large cockpit or forward shing platform.
STORAGE
The 675 Pilothouse combines a sense of space and freedom without sacri cing storage. Your shing rods will t perfectly in a lockable oor storage area. Lockers in the cockpit oor, a fully-lined storage area below the galley, and additional space under the berth and the aft bench seat provide a variety of safe, accessible locations for you to keep all of the things you need for shing and fun.
SMART EDITION
Be sure to get what you need: the Smart Edition is based on the options that are most frequently requested by our customers. In addition to that you save an average of 10 % when compared to ordering options separately and this edition is probably already available at your local dealer right now.